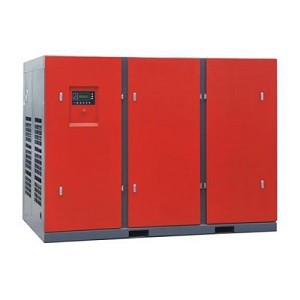 | | |
| --- | --- |
| Categories | Screw Compressor |
| Brand | QIAN KUN |
| Model | QK110-8 |
| Power | 110kw |
| Pressure | 8bar |
| Air capacity | 20m3/min |
| FOB port | Ningbo,Shanghai |
| Terms of Payment | T/T |
| Update Time | October 1,2023 |
Power screw compressor
What is the working principle of Rotary screw air compressor?
Here we will go through the basic principle of Rotary screw air compressors.
The Screw air compressor uses a rotary-type positive-displacement mechanism. The screw element consists of two rotors that are similar to a helix each with a different shape and number of grooves/ teeth. Atmospheric air is sucked into this screw element and as the air progresses along the rotors, it gets compressed. The main characteristic is a male and a female rotor element which gets the air to trap and release when as required.
In an oil lubricated rotary screw type air compressor the male rotor is driven by the motor or engine, and the female rotor is driven by the male rotor, or actually by the thin film of oil that's between them.

In an oil-free rotary screw type air compressor a set of gears controls the timing between the male and female rotor. There is no oil to seal the chamber.

The basic principle of a rotary type compressor is that the male and female rotors are spinning in opposite directions. The prime mover turns the rotor of
the airend in rotary screw air compressor. This develops a vacuum which results in surrounding air being driven into the airends through the air filter. As the rotors turn progressively, air gets trapped in the spaces between the two screws (rotors).
Air is taken from the atmosphere into the rotary screw compressor through the air intake system. It passes through a filter that helps in removing suspended particles from it. The filtered air goes in the airend, which is the heart of the rotary screw compressor. Here the air trapped within the spaces between the two rotors with lobes that mesh with each other. As the rotors turn, they progressively compress the trapped pockets of the air and the compressed air is discharged at the outlet of the airend.
They are  examples of best-in-class rotary screw electric air compressor technology which acts an ideal footprint for industrial applications.
P
ermanent magnet frequency conversion screw compressor
| Modle | KW | M3/MIN | MPA |
| --- | --- | --- | --- |
| QK-10Z | 7.5 | 1.1 | 0.8 |
| QK-15Z | 11 | 1.5 | 0.8 |
| QK-20Z | 15 | 2.8 | 0.8 |
| QK-25Z | 18.5 | 3.2 | 0.8 |
| QK-30Z | 22 | 3.7 | 0.8 |
| QK-40Z | 30 | 5.0 | 0.8 |
| QK-50Z | 37 | 6.5 | 0.8 |
| QK-60Z | 45 | 7.5 | 0.8 |
| QK-75Z | 55 | 9.9 | 0.8 |
| QK-100Z | 75 | 13.3 | 0.8 |
| QK-120Z | 90 | 15.9 | 0.8 |
| QK-150Z | 110 | 23.0 | 0.8 |
| QK-175Z | 132 | 24.8 | 0.8 |
| QK-200Z | 160 | 28.5 | 0.8 |
| QK-250Z | 185 | 33.0 | 0.8 |
Power frequency SCREW COMPRESSOR
| MODLE | KW | M3/MIN | MPA |
| --- | --- | --- | --- |
| QK-7 | 5.5 | 0.6 | 0.8 |
| QK-10 | 7.5 | 1.1 | 0.8 |
| QK-15 | 11 | 1.5 | 0.8 |
| QK-20 | 15 | 2.3 | 0.8 |
| QK-25 | 18.5 | 3.0 | 0.8 |
| QK-30 | 22 | 3.6 | 0.8 |
| QK-40 | 30 | 5.0 | 0.8 |
| QK-50 | 37 | 6.2 | 0.8 |
| QK-60 | 45 | 7.0 | 0.8 |
| QK-75 | 55 | 9.2 | 0.8 |
| QK-100 | 75 | 12.6 | 0.8 |
| QK-120 | 90 | 15.0 | 0.8 |
| QK-150 | 110 | 19.8 | 0.8 |
| QK-175 | 132 | 23.2 | 0.8 |
| QK-200 | 160 | 27.6 | 0.8 |
| QK-250 | 185 | 30.4 | 0.8 |
| QK-300 | 220 | 34.3 | 0.8 |
| QK-350 | 250 | 42.0 | 0.8 |
Name:

Tensy
Tel:

86-13615702234